Description
Type 2 charging socket
The TECHNIVOLT 100 is equipped with a Type 2 charging socket. Use a Type 2 charging cable to charge the vast majority of e-cars in Europe.
The Type 2 plug is now the European standard.
TECHNIVOLT 100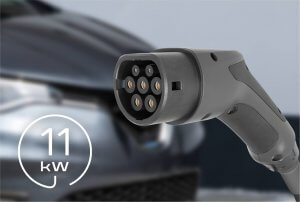 Fast charging with 11 kW
With the charging power of 11kW, you can also charge an electric vehicle with a larger battery capacity quickly and effectively. Use the simplified charging calculator to see the time in which the TECHNIVOLT 100 fully charges your vehicle from 0 to 100. The times determined are theoretical, maximum loading times. The common recommendation is to charge an e-car with a remaining battery capacity of approx. 20% to approx. 80% of the total battery capacity.
Protected by an RFID card
If the e-charging station is freely accessible in the driveway or carport, access protection is useful to prevent unauthorized persons from charging. You can use the supplied master card to register up to 20 user cards on the TECHNIVOLT 100. Two user RFID cards are already included in the scope of delivery to enable convenient and safe charging only after prior authorisation. You can train any other RFID card as user cards at any time.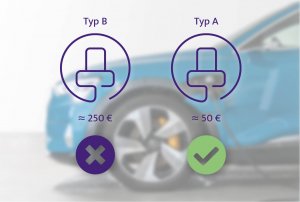 Lower installation costs thanks to integrated DC residual current detection
Now it's getting very technical, but also important! The TECHNIVOLT 100 already has an integrated electronic detection of smooth DC residual currents in the range of IΔn ≥ 6 mA, as prescribed by DIN EN 61851-1 for electric vehicles. It ensures that the vehicle's power supply is disconnected in the event of a DC fault current greater than 6 mA. For the electrician who connects the wallbox, this means that he only needs a type A residual current circuit breaker, which is significantly cheaper than a type B switch.
Technical data
Article data
EAN 4019588064003
Colour black
Item no. 0000/6400
Weight (Box) 6.5 kg
Weight 4.4 kg
Device (W x H x D) 31.50 x 46.00 x 13.50 cm
Box 39.80 x 52.00 x 23.70 cm
Scope of delivery
Charging station TECHNIVOLT 100, assembly instructions, user manual, assembly template, mounting accessories, 1x Master RFID card, 2x user RFID card
Documents
Install Instructions
Operating Instructions